« Bashar Al-Assad's Obituary | Main
06/25/2012
My Dear Adam Levine, I am Sid Harth.
My Dear Adam Levine, I am Sid Harth.
The right answer to your rhetorical, Oops, nonsensical question is a big NO!
Do something else. Say, underwater basket weaving, for heavenssake. Idiot!
…and I am Sid Harth@webworldismyoyster.com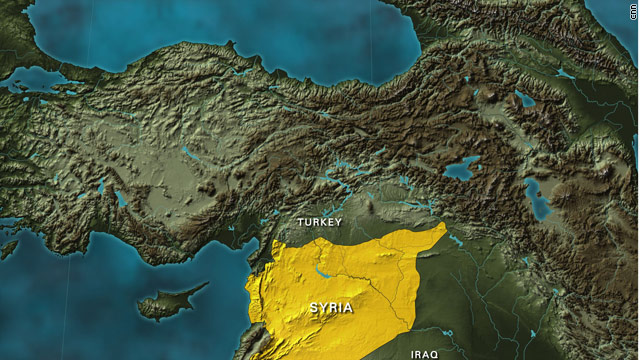 June 25th, 2012
12:01 AM ET
By Adam Levine, CNN
Turkey's leadership took on a much more strident tone on Sunday, calling the downing of its military jet by Syria an "act of aggression" and invoking its right to consult with other NATO nations. That call to meet has raised the question of whether other nations, including the United States, would be compelled to strike back on Turkey's behalf.
Turkish Foreign Minister Ahmet Davutoglu has spoken with U.N. Secretary-General Ban Ki-moon, the foreign ministers of the United States, the United Kingdom, France, Russia and Iran, and European Union foreign policy chief Catherine Ashton since the incident, spokesman Selcuk Unal told CNN Saturday.
British Foreign Minister William Hague Sunday called the incident "outrageous" and said he condemned it wholeheartedly."
"The Assad regime should not make the mistake of believing that it can act with impunity. It will be held to account for its behavior," Hague said of Syrian President Bashar al-Assad.
The top American military official, chairman of the Joint Chiefs of Staff Gen. Martin Dempsey, called his Turkish counterpart this weekend, a U.S. official told CNN's Barbara Starr.
Secretary of State Hillary Clinton spoke with her Turkish counterpart, as well. In a statement issued Sunday she called the incident a "brazen and unacceptable act in the strongest possible terms."
NATO members will be meeting this Tuesday in Belgium to discuss the incident, at the request of Turkish officials, according to NATO spokeswoman Oana Lungescu.
The meeting, or "consultations," is one Turkey called under Article 4 of the NATO treaty, Lungescu said in an e-mail to CNN. Turkey is expected to make a presentation about the plane incident.
"Under Article 4, any ally can request consultations whenever, in the opinion of any of them, their territorial integrity, political independence or security is threatened," she wrote.
With the consultations, there is a chance Turkey will demand a collective military response. The notion comes from what is known as Article 5 of the North Atlantic Treaty Organization's Washington Treaty, which states that should a member nation – which Turkey is – be attacked, other NATO members are compelled in a collective act of self-defense "such action as it deems necessary, including the use of armed force, to restore and maintain the security of the North Atlantic area."
Article 5 has been invoked just once since NATO's founding, the military response to 9/11.
In this incident, after restrained comments early on, Turkey has issued much angrier comments as details became known. On Sunday, Turkey's foreign minister said the country will act "decisively" within international law and refuted Syria's contention that the plane was shot down because it displayed an "act of aggression."
The plane in the Friday incident was unarmed and sending no hostile signals, said Davutoglu. The plane was testing Turkey's radar systems, Davutoglu said.
"You have to first send a caution, a warning," he said in the first detailed Turkish statement on the international incident. "If the warning doesn't work, you scramble your planes, you send a stronger signal, you force the plane to land. There wasn't enough time to do any of that in the time that our plane was in Syrian airspace."
Davutoglu added the plane was shot down in international air space.
Turkey has invoked Article 4 before, after tensions arose on its border with Iraq.
"This did not lead to the invocation of Article 5," Longescu noted.
A senior American administration official speaking on background because of the sensitivity of the issue, told CNN's Jill Dougherty on Sunday that Turkey's request "is just consultations, and they aren't asking for more than that." The official added that the move does mean Turkey considers Syria's shooting down their plane a threat to Turkey's security.
If NATO was looking for a fight, this would be a good opportuity to invoke Article 5, but there is no appetite for a military conflict with Syria at the moment, several NATO diplomats told CNN's Elise Labott on Sunday.
There are many factors that weigh against a military response. First and foremost, the North Atlantic Council has to agree to it. Also, even if agreed, each member can contribute as they see fit.
"This is an individual obligation on each Ally and each Ally is responsible for determining what it deems necessary in these particular circumstances," according to a description of the charter posted on the NATO website.
The United States and many other countries have been vocally opposed to military intervention and will not be quick to encourage Turkey to press the issue. After Syrian troops shelled refugees on the Turkish side of the border earlier this year, Secretary of Defense Leon Panetta made clear that the bar was high for Turkey to claim the need for a collective self-defense.
Panetta was asked about invoking Article 5 at a House Armed Services Committee hearing in April.
"I think it's clear that the only way that the United States would get involved militarily is if there's a consensus in the international community to try to do something along those lines. And then obviously ensure that the international community is able to get the – the authorities required in order to make that happen," Panetta said. "They would have to make clear that what is happening there really does truly represent a direct threat to Turkey. And I think at this point, that's probably a stretch."
In her statement Sunday, Clinton said the U.S. would keep in contact with Turkey as the country determines its response. The U.S. will "work with Turkey and other partners to hold the Assad regime accountable," Clinton said.
NATO members agreeing to respond to this incident is "inconceivable," wrote James Joyner on the Atlantic Council blog. Joyner, who said he opposes military intervention in Syria, felt the incident does not rise to the level of such a response.
"The operative word that almost certainly disqualifies this incident from an Article 5 response is 'attack.' Turkey was engaged in aggressive action along its border with Syria during a particularly tense situation and flew into Syrian airspace," Joyner wrote on Friday, "While shooting down the plane was almost certainly an overreaction – the Assad government has said as much – it's hardly an 'attack.'"
Additionally, Joyner said, the article demands response "to restore and maintain the security of the North Atlantic area."
"Given that the incident is already contained – that is, not likely to be followed by any sort of follow-on action by Syria absent further provocation – said security already exists. Indeed, a NATO or Turkish response would make the area more, not less, secure," Joyner maintained.
But Turkey's prime minister, Recep Tayyip Erdogan, may feel compelled to make a decisive response, said Hoover Institution's Fouad Ajami, who explained Erdogan is already under pressure after he turned against Syria's regime and called for the rescue of the Syrian people.
"I think it would be an embarrassment to Prime Minister Erdogan, because he has to make good on the threats that he has made," Ajami said in an interview with CNN's Candy Crowley broadcast on "John King, USA."
Ajami said the shootdown is a worrisome development as it demonstrates Syrian president al-Assad's "sense of abandon."
"Turkey is a NATO member. Turkey is a very, very formidable power. Turkey is four times the size of Syria. The Turkish military is a mighty institution.
"And the idea that this ragtag regime in Damascus would shoot down a Turkish airplane, a jet fighter … a Phantom – F-4 Phantom plane – tells you that Bashar al-Assad's regime has the sense of invulnerability, that no one is coming to the rescue of the Syrian population," Ajami said on Friday.
But in the end, nobody is expecting the Turks even to ask to invoke Article 5, knowing that NATO would probably not go along, diplomats told CNN on Sunday. The impression was that Turkey itself does not want to ratchet thing up that high, either.



CNN en ESPAÑOL
|
CNN México
|
CNN Chile
|
CNN Expansion
|

|

|

|


© 2010 Cable News Network.
Turner Broadcasting System, Inc.
All Rights Reserved.
Terms of service
|
Privacy guidelines
|
Ad choices

|
Advertise with us
|
About us
|
Contact us
|
Help
|
Advertising Practices
Powered by
WordPress.com VIP
U.S.-Turkey Relations
A New Partnership
Chairs: Madeleine K. Albright, Chair, Albright Stonebridge Group LLC, and Stephen J. Hadley, United States Institute of Peace
Director: Steven A. Cook, Hasib J. Sabbagh Senior Fellow for Middle Eastern Studies
Order Print EditionPublisher Council on Foreign Relations Press
Release Date May 2012
Price $15.00
96 pages
ISBN 978-0-87609-525-6
Task Force Report No. 69
Share
Overview
Turkey is a rising regional and global power facing, as is the United States, the challenges of political transitions in the Middle East, bloodshed in Syria, and Iran's pursuit of nuclear weapons. As a result, it is incumbent upon the leaders of the United States and Turkey to define a new partnership "in order to make a strategic relationship a reality," says a new Council on Foreign Relations (CFR)–sponsored Independent Task Force.
The bipartisan Task Force is chaired by former secretary of state Madeleine K. Albright and former national security adviser Stephen J. Hadley, and is directed by Steven A. Cook, CFR's Hasib J. Sabbagh senior fellow for Middle Eastern studies. The Task Force includes twenty-three prominent experts who represent a variety of perspectives and backgrounds.
"Turkey may not yet have the status of one of Washington's traditional European allies," the report explains, "but there is good strategic reason for the bilateral relationship to grow and mature into a mutually beneficial partnership that can manage a complex set of security, economic, humanitarian, and environmental problems."
The relationship should reflect "not only common American-Turkish interests, but also Turkey's new stature as an economically and politically successful country with a new role to play in a changing Middle East," argues the Task Force in the report, U.S.-Turkey Relations: A New Partnership.
Turkey is more democratic, prosperous, and politically influential than ever before. Still there are worrying domestic developments that raise questions about Turkey's democratic practices. According to the Task Force, these concerns include: "the prosecution and detention of journalists, the seemingly open-ended and at times questionable pursuit of military officers and other establishment figures for alleged conspiracy against the government, the apparent illiberal impulses of some Turkish leaders, the still-unresolved Kurdish issue, and the lack of progress on a new constitution."
The Task Force finds that overall, Turkey is not well understood in the United States. The Task Force "seeks to promote a better understanding of the new Turkey—its strengths, vulnerabilities, and ambitions—in order to assess its regional and global role and make recommendations for a new partnership of improved and deepened U.S.-Turkey ties."
To make the vision for a new U.S.-Turkey partnership a reality, Ankara and Washington should observe the following principles:
equality and mutual respect for each other's interests;
confidentiality and trust;
close and intensive consultations to identify common goals and strategies on issues of critical importance;
avoidance of foreign policy surprises; and
recognition and management of inevitable differences between Washington and Ankara.
More About This Publication
Madeleine K. Albright
Albright Stonebridge Group
Henri J. Barkey
Lehigh University
Elmira Bayrasli
Richard R. Burt
McLarty Associates
Soner Cagaptay
Washington Institute for Near East Policy
Steven A. Cook
Council on Foreign Relations
Edward P. Djerejian
James A. Baker III Institute for Public Policy, Rice University
William M. Drozdiak
American Council on Germany
Stephen J. Hadley
U.S. Institute of Peace
Robert W. Kagan
Brookings Institution
Parag Khanna
New America Foundation
Clark B. Lombardi
University of Washington School of Law
Aliza Marcus
World Bank Group
Larry C. Napper
George Bush School of Government and Public Service, Texas A&M University
Denise Natali
Institute for National Strategic Studies
Joseph W. Ralston
The Cohen Group
Gregory Saunders
BP America Inc.
Patrick N. Theros
U.S.-Qatar Business Council
Vin Weber
Mercury/Clark & Weinstock
Jenny B. White
Boston University
Ross Wilson
Atlantic Council of the United States
Nur O. Yalman
Harvard University
Ahmad Zuaiter
Jadara Capital Partners, LP
Subscribe to CFR's Publications Quarterly
Steven A. Cook examines developments in the Middle East and their resonance in Washington.
---
Receive Blog Posts by EmailSubscribe to the Blog Feed
Ideas and initiatives for rebuilding American economic strength.
---
Receive Blog Posts by EmailSubscribe to the Blog Feed
New Ebook on Iran's Nuclear Regime
Iran: The Nuclear ChallengeIn what may be the clearest picture of Iran's nuclear program to date, CFR scholars map the objectives, tools, and strategies for dealing with one of the most vexing issues facing the United States and global community today.Available in Kindle, Nook, Sony Reader, iBook, Kobo, and paperback versions
New Council Special Report
Countering Criminal Violence in Central Americaby Michael ShifterThe author assesses the causes and consequences of the violence faced by several Central American countries and examines the national, regional, and international efforts intended to curb its worst effects.
Complete list of Council Special Reports
New Books
No One's Worldby Charles A. KupchanA renowned scholar maps out the twenty-first-century world, providing a detailed strategy for reconciling the West with the "rise of the rest." More
The US-South Korea Allianceedited by Scott A. SnyderA new volume explores the possibilities for enhanced U.S.-South Korea cooperation in both traditional and nontraditional spheres. More
New Independent Task Force Reports
U.S.-Turkey RelationsThis Independent Task Force asserts that Turkey is an increasingly influential regional and economic power and calls for the United States and Turkey to forge a new partnership.
U.S. Education Reform and National SecurityThis Independent Task Force report asserts that fixing the nation's underperforming K-12 public schools is critical for strengthening the country's security and increasing its economic competitiveness.
Permissions Requests
To request permission to reprint or reuse CFR material, please fill out this permissions request form (PDF), referring to the instructions on page 1.
More on This Topic
Speakers: Madeleine K. Albright, Stephen J. Hadley and Steven A. Cook
Presiders: Anya Schmemann and David R. Ignatius
May 9, 2012, Washington D.C. The new CFR-Sponsored Independent Task Force report provides analysis and recommendations on Turkey's relationship with the United States;…
Authors: Madeleine K. Albright and Stephen J. Hadley
May 15, 2012The U.S.-Turkey relationship has become increasingly important as a result of the continuing violence in Syria and ongoing debate over Iran's…
Speakers: Madeleine K. Albright, Stephen J. Hadley and Steven A. Cook
Presider: Gary Rosen
May 8, 2012, New YorkTask Force Co-Chairs Madeleine K. Albright and Stephen J. Hadley and Project Director Steven A. Cook discuss the findings and recommendations…
May 8, 2012It is incumbent upon the leaders of the United States and Turkey to define a new partnership "in order to make a strategic relationship a…
Turkey–United States relations
From Wikipedia, the free encyclopedia
Turkey – United States relations [1] Difficulties faced by Greece after the war in quelling a communist rebellion, along with demands by the Soviet Union for military bases in the Turkish Straits, prompted the United States to declare the Truman Doctrine in 1947. The doctrine enunciated American intentions to guarantee the security of Turkey and Greece, and resulted in large scale U.S. military and economic support.[2] This support manifested in the establishment of a clandestine stay behind army, denoted the "Counter-Guerrilla", under Operation Gladio. After participating with United Nations forces in the Korean War, Turkey joined the North Atlantic Treaty Organization (NATO) in 1952.[3]
The friendliness of Turkey towards the United States has declined markedly over the past five years. The decline of U.S.-Turkish relations is primarily a result of the United States' instigation of and action in the Iraq War. Turkey views the Iraq war as a significant threat because northern Iraq acts as a safe-haven for a Kurdish terrorist organisation, the Kurdistan Workers Party (PKK). Furthermore, Turkey views the destabilization of Iraq as a possible impetus for Kurds to claim their independence from Turkey, Iraq, and/or other Middle Eastern countries with significant Kurdish populations.
Early relationship
Turkey's most important international relationship has been with the United States since the end of the Second World War and the beginning of the Cold War. Turkey's association with the United States began in 1947 when the United States Congress designated Turkey, under the provisions of the Truman Doctrine, as the recipient of special economic and military assistance intended to help it resist threats from the Soviet Union. A mutual interest in containing Soviet expansion provided the foundation of U.S.–Turkish relations for the next four decades. As a result of Soviet threats and U.S. assistance against them, Turkey moved away from a single-party government towards democracy; in fact holding the first democratic elections in 1950, as a result of which self-declared "National Chief" Ismet Inonu was finally toppled by the people and Adnan Menderes was elected by popular vote. In support of overall United States Cold War strategy, Turkey contributed personnel to the United Nations forces in the Korean War (1950–53), joined NATO in 1952, became a founding member of the Central Treaty Organization (CENTO) collective defense pact established in 1955, and endorsed the principles of the 1957 Eisenhower Doctrine. In the 1950s and 1960s, Turkey generally co-operated with other United States allies in the Middle East (Iran, Israel, and Jordan) to contain the influence of those countries (Egypt, Iraq, and Syria) regarded as Soviet clients. Throughout the Cold War, Turkey was the bulwark of NATO's southeastern flank, directly bordering Warsaw Pact countries and risking nuclear war on its soil during the Cuban Missile Crisis. Turkey received around 2.5 billion dollars in military aid from 1950 to 1970 (in 1970 dollars).[4] Since 1954, Turkey hosts the Incirlik Air Base, an important operations base of the United States Air Force, which has played a critical role during the Cold War, the Gulf War, and the recent Iraq War.
Turkish invasion of Cyprus
After the 1974 Cypriot coup d'état, backed by the Cypriot National Guard and the Greek military junta, Turkey sent its forces to Cyprus on July 20, 1974. In doing so, Turkey claimed to protect the safety of Turkish Cypriots under the Treaty of Guarantee. As a result of the military operation, Turkish forces took control of the northern third of Cyprus and divided the island along what became known as the Green Line monitored by the United Nations.
Turkey, only 75 km away, had repeatedly claimed, for decades before the invasion and frequently afterwards, that Cyprus was of vital strategic importance to it. Ankara has defied a host of UN resolutions demanding the withdrawal of its occupation troops from the island. About 142.000 Greek Cypriots living in the north – nearly one quarter of the population of Cyprus – were forcibly expelled from the occupied northern part of the island where they constituted 80% of the population. These people are still deprived of the right to return to their homes and properties. U.S. Congress imposed an embargo on arms sales to Turkey leading to excessive tension and mistrust between relations of Turkey and USA.
The arms embargo was silently removed a few years later.
1980s
During the 1980s, relations between Turkey and the United States gradually recovered the closeness of earlier years. Although Ankara resented continued attempts by the United States Congress to restrict military assistance to Turkey because of Cyprus and to introduce congressional resolutions condemning the Armenian Genocide, the Özal government generally perceived the administration of President George H.W. Bush as sympathetic to Turkish interests. Ronald Reagan was sympathetic to the Armenian cause and is the last American to have officially recognized the Armenian Genocide. .[5] It was in this period that the Turkish Aerospace Industries (TAI) was established and started to licence-build F-16 Fighting Falcon jets in Turkey. Washington also demonstrated its support of Özal's market-oriented economic policies and efforts to open the Turkish economy to international trade by pushing for acceptance of an International Monetary Fund program to provide economic assistance to Turkey. Furthermore, the United States, unlike European countries, did not persistently and publicly criticize Turkey over allegations of human rights violations. Also, the United States did not pressure Özal on the Kurdish problem, another issue that seemed to preoccupy the Europeans. By 1989 the United States had recovered a generally positive image among the Turkish political elite.
After the Cold War
The end of the Cold War forced Turkish leaders to reassess their country's international position. The disappearance of the Soviet threat and the perception of being excluded from Europe have created a sense of vulnerability with respect to Turkey's position in the fast-changing global political environment. Özal believed Turkey's future security depended on the continuation of a strong relationship with the USA. For that reason, he supported the United States' position during the Persian Gulf War, although Turkey's economic ties to Iraq were extensive and their disruption hurt the country. After the war, he continued to support major United States initiatives in the region, including the creation of a no-fly zone over northern Iraq, the Arab–Israeli peace process, and expanded ties with the Central Asian members of the CIS. Özal's pro-United States policy was not accepted by all Turks. The United States' use of Turkish military installations during the bombing of Iraq in 1991 led to antiwar demonstrations in several cities, and sporadic attacks on United States facilities continued in 1992 and 1993. Nevertheless, among Turkey's political elite, a consensus had emerged by January 1995 that Turkey's security depended on remaining a strategic ally of the United States. For that reason, both the Demirel and Çiller governments undertook efforts to cultivate relations with the administrations of presidents George H. W. Bush and Bill Clinton.
War on Terror
Turkey has remained a close ally of the United States, supporting it in the war on terror in the post September 11 climate. However, the Iraq war faced strong domestic opposition in Turkey and as such, the Turkish Parliament couldn't reach the absolute majority of 276 votes needed for allowing U.S. troops to attack Iraq from Turkey, the final tally being 264 votes for and 250 against. This led to a brief period of cooling in relations, particularly following the "hood event", which was perceived as an act of hostility in Turkey.
Ankara is particularly cautious about an independent Kurdish state arising from a destabilized Iraq. Turkey has fought an insurgent war against the Kurdistan Workers' Party (PKK), a Kurdish guerrilla group (recognized as a terrorist organization by both the United States and the European Union) seeking Kurdish independence, in which more than 37,000 people have lost their lives. This has led Ankara to pressure the U.S. into clamping down on guerrilla training camps in northern Iraq, though the U.S. remains reluctant due to northern Iraq's relative stability compared to the rest of the country as well as its lack of spare forces to divert away from the more contentious areas of Iraq. On October 17, 2007, the Turkish Parliament voted in favour of allowing the Turkish Armed Forces to take military action against the PKK rebels based in northern Iraq.[6] In response, U.S. President George W. Bush stated that he did not believe it's in Turkey's interests to send troops into Iraq.[7]
In late 2007, Turkey recalled its ambassador to the United States after the House Committee on Foreign Affairs passed a United States resolution on the Armenian Genocide in the Ottoman Empire. This resulted in a delay of a full House vote on Res. 106. Speaker Pelosi has pledged to bring the resolution to a full vote, but pressure from the White House and Turkey has kept her from doing so.[8]
Nevertheless, the United States and Turkey share membership in NATO, the Organisation for Economic Co-operation and Development (OECD), the Organization for Security and Co-operation in Europe (OSCE) and the G-20, and continue to cooperate in important projects, such as the Joint Strike Fighter program. The United States also actively supports Turkey's membership bid to join the European Union, lobbying frequently on behalf of Ankara through its diplomatic missions in EU capital cities. In June 2008, The United States and Turkey began to cooperate on peaceful uses of nuclear energy with a pact that aims for the transfer of technology, material, reactors and components for nuclear research and nuclear power production in Turkey for an initial 15-year period followed by automatic renewals in five-year increments that provides a comprehensive framework for peaceful nuclear cooperation between the two nations under the agreed non-proliferation conditions and controls. A parallel U.S. bipartisan resolution has recently highlighted the importance for Turkish Republic's key role in providing her western (EU and US) and regional allies Eurasian energy security.
The Center for Strategic and International Studies has recently started a one-year initiative project to evaluate and enhance the Turkish Republic – United States strategic partnership, aiming for a plan of implementation of the concluded framework at the end of this phase.
Current relations
2009 US presidential visit to Turkey
US President Barack Obama made his first official visit to Turkey, stopping off in both Ankara and Istanbul, on April 6–7, 2009. There had been critics in the U.S. who claimed that Turkey should not be rewarded by an early presidential visit as its government had been systematically reorienting foreign policy onto an Islamist axis, but as former US Ambassador to Turkey Mark Parris has stated, "Whatever the merits of this argument, the Obama administration, by scheduling the visit, have decisively rejected it."[9]
During his visit Obama urged Turkey to come to terms with its past and resolve its Armenian issues. Prior to this, during the 2008 U.S. Presidential election, he had criticised the then US President George W. Bush for his failure to take a stance and stating that the "Armenian genocide is not an allegation, a personal opinion, or a point of view, but rather a widely documented fact supported by an overwhelming body of historical evidence".[10] He responded positively to an announcement from sources in Ankara and Yerevan that a deal might soon be struck to reopen the border between the two states and exchange diplomatic personnel by indicating that although his own personal views on the subject remained unchanged, he may, in order to avoid derailing this diplomatic progress, refrain from using the word genocide in his upcoming April 24 speech on the question.[11]
Turkish President Gül later referred to the visit as "evidence of a vital partnership between Turkey and the US," whilst Turkish Foreign Minister Ahmet Davutoğlu pointed out that, "You are changing the psychological atmosphere," of what was before "seen as a military relationship,"[12] but as Obama made clear, "We are not solely strategic partners, we are also model partners," and with this change in terminology, "The President wanted to stress the uniqueness of this relationship. This is not an ordinary relationship, it's a prototype and unique relationship."[13] A US House of Representatives Committee on Foreign Affairs hearing entitled The United States and Turkey: A Model Partnership under the chairmanship of the Head of the Subcommittee on Europe Robert Wexler was convened following, "the historic visit that Obama paid to Turkey," and concluded that, "This cooperation is vital for both of the two states in an environment in which we face serious security issues in Afghanistan, Iraq, Iran, the Balkans, Black Sea, Caucuses and the Middle East, besides a global financial crisis."[14]
Following Obama's visit Turkish Prime Minister Recep Tayyip Erdoğan and Chief of the Turkish General Staff Gen. İlker Başbuğ played host to US Chairman of the Joint Chiefs of Staff Adm. Mike Mullen in Ankara. In the course of the closed-door meeting they discussed the pledging of further Turkish support troops to Afghanistan and Pakistan where Turkish authorities have influence, the secure transport of troops and equipment from the port of İskenderun during the withdrawal of US troops from Iraq, and the pro-Kurdish terrorists operating in south-eastern Turkey and northern Iraq.[15]
On April 22, 2009, shortly after Obama's visit, Turkish and Armenian authorities formally announced a provisional roadmap for the normalisation of diplomatic ties between the two states.[16] The US responded positively with a statement from the office of US Vice President Joe Biden, following a phone conversation with Armenian President Serzh Sargsyan, which stated that, "The Vice President applauded President Sargsyan's leadership, and underscored the administration's support for both Armenia and Turkey in this process."[17] Turkish columnists however criticised the timing of the announcement believing it to have been made to placate the US President in advance of his April 24 speech, with Fikret Bila writing in the Milliyet that, "the Turkish Foreign Ministry made this statement regarding the roadmap before midnight," as it would allow Obama to go back on his campaign promise, to refer to the incident as genocide, which the Turkish government denies profusely, by pointing out to the Armenian diaspora that, "Turkey reached a consensus with Armenia and set a roadmap," and, "there is no need now to damage this process."[18][19]
President Obama on the Armenian Genocide
"Ninety-four years ago, one of the greatest atrocities of the 20th century began. Each year, we pause to remember the 1.5 million Armenians who were subsequently massacred or marched to death in the final days of the Ottoman Empire. The Meds Yeghern must live on in our memories, just as it lives on the hearts of the Armenian people,"[20] stated the Statement of President Barack Obama on Armenian Genocide Remembrance Day. As previously indicated US President Obama had chosen to avoid the use of the word genocide in order to avoid upending recent pledges of a closer partnership with Turkey but for many the use of the Armenian term Meds Yeghern, translated as "Great Calamity", did little to placate critics within the country.[21][22]
Official Turkish response was highly critical with Turkish Prime Minister Recep Tayyip Erdoğan stating, "We regard the statement concerning the 1915 events as an interpretation of history that does not reflect the truth and is thus unacceptable. We are saddened that the issue is being persistently exploited and many politicians are trying to win votes out of the controversy over the 1915 events. Turkey is not a country that can be flattered and then fooled." Whilst Turkish President Abdullah Gül claimed, "Hundreds of thousand of Turks and Muslims also died in 1915. Everyone's pain must be shared."[23] Although no official complaint was lodged US Ambassador to Turkey James Jeffrey was summoned to the Turkish Foreign Ministry the day after the statement, where officials expressed "views, comments, assessments, as well as the reaction."[24]
Obama confirmed in his speech that, "I have consistently stated my own view of what occurred in 1915, and my view of that history has not changed. My interest remains the achievement of a full, frank and just acknowledgment of the facts."[20] In response former US Ambassador Parris has stated that the new US administration had been "true to its public declarations of readiness to listen and be responsive to Turkish viewpoints and concerns", before concluding that, "had the statement contained the word 'genocide', US-Turkish relations would have gone into a deep freeze that would have taken years to thaw," and although criticised Obama's speech, "did no lasting harm."[9]
Continued cooperation in the war on terror
The 2009 US Secretary of State's Country Report on Terrorism confirmed that cooperation in terrorism is a key element in America's strategic partnership with Turkey, before going on to praise Turkish contributions to stabilise Iraq and Afghanistan and highlighting the strategic importance of the İncirlik Air Base in Adana used by both US and NATO forces for operations in the region.[25]
Questions have been subsequently raised, however, over the continued presence of US nuclear weapons, reportedly stationed at the air base during the Cold War as part of the NATO nuclear sharing programme, after recent parliamentary debates in Belgium and Germany called for the removal of weapons stationed there under the same programme. Bilkent University Professor Mustafa Kibaroğlu speculates that if the Obama administration presses for the withdrawal of these weapons, which Turkey wishes to maintain, then Turkey-US relations may be strained.[26]
The US Secretary of State's report also contained information on the PKK and other terrorist groups operating in Turkey, whom the US and Turkish authorities share intelligence on, highlighting the September 12, 2006 attack on Diyarbakır and the July 27, 2008 attack on Güngören before going on to mention the ongoing Turkish investigation into the Ergenekon network and concluding that, "the details of the case were murky, however, and Ergenekon's status as a terrorist organisation remained under debate at year's end."[25]
A separate report presented to US President Obama by the US Commission on International Religious Freedom, which had previously urged him to raise the subject of religious freedom during his 2009 presidential visit to Turkey, concluded that Turkey's interpretation of secularism, "resulted in violations of religious freedoms for many of the country's citizens, including members of the majority and, especially, minority religious communities."[27]
A US Democratic Party delegation group including US Senators Robert Casey, Edward E. Kaufman, Frank Lautenberg and US Congressman Timothy Waltz met with Turkish officials in Ankara on 30 May to confirm, "Turkey can always depend on the US, while the US can always rely on its close friendship with Turkey."[28]
2009 Conference on US-Turkish Relations
The 28th American Turkish Council Annual Conference on US-Turkish Relations entitled "US-Turkey: Overcoming Challenges in an Era of Change" commenced in Washington on 31 May 2009 with key speakers Turkish Defense Minister Vecdi Gönül and Chief of the Turkish General Staff İlker Başbuğ both thanking the US for its support in anti-terror actions against the PKK, with Başbuğ adding, "Our relations are very comprehensive and cannot be limited to one specific issue,"[29][30] and Turkish Foreign Minister Ahmet Davutoğlu elaborating "I think where there's the most promise is in the idea that Turkey and the United States can build a model partnership, one in which a majority Christian and a majority Muslim nation, a Western nation and a nation that straddles two continents can come together; we can create a modern international community that is respectful secure and prosperous. This is extremely important," and, "Model partnership is not an issue of preference, but it is a necessity."[13]
Turkey and the Iranian Nuclear Crisis
In April 2010, Washington stepped up its efforts to impose a new round of sanctions on Iran over its nuclear program.
But key powers such as Turkey, India and China oppose the adoption of a new round of sanctions against Tehran.
As a result the American Congress has held up arms sales sought by the Turkish military in order to impose their will on the Kurds.[31]
2010 Leaked diplomatic documents
According to leaked diplomatic cables, Erdoğan was described by US diplomats as having "little understanding of politics beyond Ankara" and as surrounding himself with an "iron ring of sycophantic (but contemptuous) advisors". He is said to be "isolated", and that his MPs and Ministers feel "fearful of Erdogan's wrath".[32] Diplomats state that "he relies on his charisma, instincts, and the filterings of advisors who pull conspiracy theories off the web or are lost in neo-Ottoman Islamist fantasies".[33][34]
The alleged cables also highlight Turkish concerns that upgrades to General Dynamics F-16 Fighting Falcons had "precluded Turkish access to computer systems and software modification previously allowed".[35]
Human rights and arms sales
In 2010, American president Obama said that future arms sales would depend on Turkish policies.[36]
The Arab Spring
The US under President Obama was reluctant to get deeply involved in the Arab World and was generally supportive of Turkish efforts in the region.[37]
For the Anatolian Falcon 2012 joint exercises, the United States sent the 480th Fighter Squadron to train Turkish pilots in Suppression of Enemy Air Defenses.[38]
Visits
Cultural Relations
American Schools in Turkey
See also
References
 This article incorporates public domain material from websites or documents of the Library of Congress Country Studies.
Further reading
External links
Most of the languages spoken is Turkish
How does Turkey do it?
U. S. President Barack Obama (not shown) meets Turkey Prime Minister Recep Tayyip Erdoğan during the United Nations General Assembly in New York on September 20, 2011. UPI/Allan Tannenbaum/Pool
License photo
Published: June 25, 2012 at 6:41 AM
ISTANBUL, Turkey, June 25 (UPI) — As the economies of Europe, China, India and the United States all slow at once, how does Turkey do it? How does this country, poised at the intersections of Europe, Asia and the Middle East, grow its economy last year at close to 10 percent, lower its trade deficit and get its sovereign debt upgraded by Moody's?
Low debt is part of the answer. The economy has been growing so fast that its sovereign debt is now reduced to just 42 percent of Turkish gross domestic product, the lowest level in Europe after Sweden, Russia and the Czech Republic.
Intelligent policies help. Noting the warning signs last year when the trade deficit went to more than 10 percent of GDP, the Turkish central bank introduced a controversial but imaginative two-tier interest rate system to discourage inflows of hot money, which can flow out again just as fast.
But at the same time, to encourage inward investment and local manufacture, the government introduced new trade incentives, which allow foreign automakers like Renault to export more cars to Turkey but only if they increase their local output. Automakers that increase annual output in Turkey by 100,000 units will be entitled to import additional vehicles equaling 15 percent of that amount without tariffs, Economy Minister Zafer Caglayan explained.
Open a new engine manufacturing plant and the company can import an extra 30 percent of foreign made cars. Similar incentives are also on offer in industries like chemicals and steel-making (where the local steel industry has been hard hit by cheap imports from Russia and Ukraine).
A sharp eye for international politics also helps explain Turkey's success. Despite a far more assertive and self-confident foreign policy that began when Turkey refused to let U.S. troops use its territory during the Iraq war, Turkey has managed to forge close relations with China, Brazil, Russia and Iran, while remaining a staunch member of NATO.
Most recently, Turkey persuaded the European Union to loosen its visa regime for Turkish visitors. That might not sound like much but two EU members — Greece and Cyprus — are still outraged at Turkey's 1974 invasion of northern Cyprus and the continued presence of Turkish troops, helping protect the "independent" enclave of Northern Cyprus. A cynic might say Turkey was taking astute advantage of Greece's near-bankruptcy and the impatience of other EU countries with the slow pace of Greek reform; a realist would acknowledge Turkey's timing.
Another example comes from the nasty spat with France last year when the French Parliament passed a resolution saying that the deaths of Armenians in 1915 under the Ottoman Empire was an act of genocide. Although the Ottomans disappeared in 1918, successive Turkish governments have seen any such charge as a terrible insult, and Franco-Turkish relations — and trade — froze. But Turkey took advantage of the change of government in the latest French elections to declare the fuss was over and that trade links were back on track.
Relations are still very cold with Israel, formerly a close ally, after the deaths of Turkish citizens when Israeli forces boarded and seized a ship of volunteers taking aid and medical supplies to Gaza. This complicates Turkey's position with the United States where Congress is blocking Turkish requests for unmanned aircraft because Turkey is now seen as hostile to Israel.
By contrast, a personal relationship has developed between U.S. President Barack Obama and Turkey's moderate Muslim Prime Minister Recep Tayyip Erdogan. U.S. intelligence officials are said to be working closely alongside Turkish counterparts on the borders with Syria, where Turkey has taken an increasingly critical line as the crisis inside Syria spirals into civil war.
The apparent shooting down by Syria of a Turkish warplane has sharply raised the stakes. Turkey has formally taken the issue before its NATO allies and rejected Syria's claim that the plane was an intruder into Syria's airspace and Syria shot it down without knowing it was Turkish.
So far, however, Turkey's ability to navigate the swirls of regional geopolitics, from the instability of Iraq to Iran's nuclear ambitions, has been as impressive in its way as the ability of the Turkish economy to thrive in tough times. Of course, the most important reason for Turkey's economic success has been hard work, a great deal of local and foreign investment and a growing number of locally bred entrepreneurs.
Given that Europe is Turkey's biggest market and Europe has hardly been a growth center for the past four years, Turkey's resilience has been remarkable. And for once, Turkey's latest growth spurt hasn't collapsed under the combined effects of inflation, trade deficits, bad debts and banking crises, which is what happened to previous Turkish booms in the 1980s, 1990s and 2000.
Although growth is likely to slow this year to 5 percent or less, the current growth phase looks much more soundly based and sustainable.
There are some shadows on the horizon. The first is the resumption of political violence in the Kurdish regions. Last year was the bloodiest in several years in the ongoing conflict with the Kurdish Workers' Party. Last week, eight Turkish troops were killed in yet another border shootout (this is why Erdogan is pressing Obama for Predator drones).
More serious in the longer term is the slow pace of reform in Turkish education. The average Turkish worker these days could be described as someone who hasn't completed a high school education and the pace of economic growth points to the urgent need for more skilled workers, more graduates and specialists. Shortages of skilled labor are threatening to drive up wages and thus inflation, which could threaten the economic miracle.
One really worrying aspect of this is that unlike many other emergent markets Turkey has few hopes of women coming in to buttress the workforce. Turkey has the lowest rate of working women if any country in the Organization for Economic Co-Operation and Development at just 23 percent — lower than it was 30 years ago.
Two other concerns are the large number of journalists arrested — close to 100 — and the government's continued pursuit of supposedly anti-Islamic groups in the military. After controversial claims of a coup plot, around 15 percent of serving generals and admirals are in prison, some for more than two years without any trial. This suggests institutional strains in the system that economic growth can dilute, but not resolve.
Topics: Recep Tayyip Erdogan, Barack Obama
© 2012 United Press International, Inc. All Rights Reserved. Any reproduction, republication, redistribution and/or modification of any UPI content is expressly prohibited without UPI's prior written consent.
<a href='http://d1.openx.org/ck.php?n=ade17e05′ target='_blank'> <img src='http://d1.openx.org/avw.php?zoneid=145018&n=ade17e05′ border='0′ alt=" /> </a>
The Bipolarity of U.S.-Turkish Relations
Stories Related to The Bipolarity of U.S.-Turkish Relations
Follow The National Interest
June 25, 2012
© 1996-2012 The Washington Post
…and I am Sid Harth@webworldismyoyster.com
Comments
You can follow this conversation by subscribing to the comment feed for this post.